The perfect Weekend Meal!
No-longer are the days where the misconception that eating red meat is bad.
In fact, many experts now insist that you eat red-meat at least once a week, especially women if you want to be healthy and AVOID heart disease.
Grass-Fed red meat is an excellent source of Omega-3 (heart healthy) fats and is loaded with iron.
Many people, especially women tend to run low iron levels and this oftentimes can sap energy as well as potentially cause other problems. لعبه القمار روليت
Good News: Eat Tuscan Grilled Steak this weekend!
This recipe, along with other fat-dropping delicious meals and snacks, are available in my book Cooking with Gold – by Derek Alessi Ph.D.
Want a free copy?
Here is a complimentary digital copy: Cooking with Gold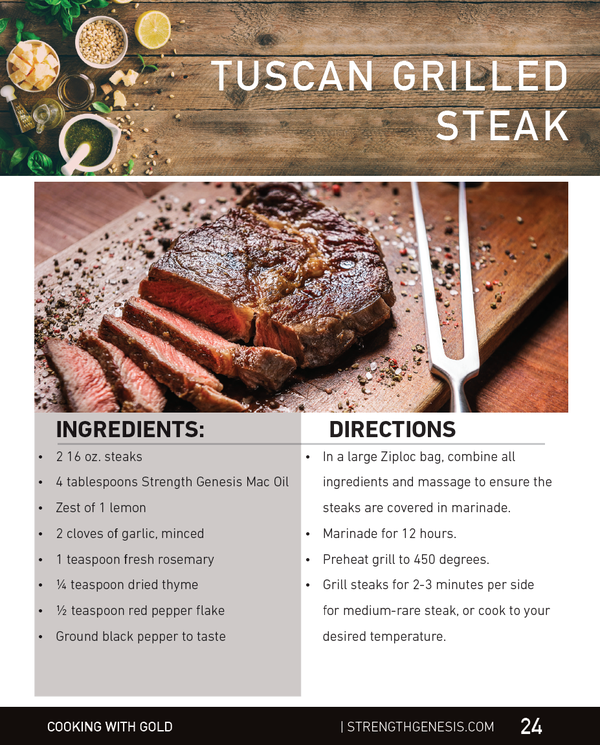 *Look at the steps above – there are only Four (4)! So if you are worried about a preparing a complex recipe, this one is a breeze! العاب لكسب المال Low carbs = Low Insulin = Everything below! لعبة جاك بوت
Weight/Fat Loss
Lower Blood Pressure
More Energy
Lower Blood Glucose
Better Thyroid Function
Less Inflammation
Less Joint Pain
Stronger Immune System
And More!
For the marinade, use four tablespoons of SG 100% Cold-Pressed Macadamia Nut Oil. You don't have to compromise great taste for diet approved foods! Enjoy!