More heart attacks occur on Monday.
In fact, more than the rest of the week combined. I spoke on this during my sleep class video and in person but it's worth pointing out again and again. automaty online legalne
It's also interesting to point out that roughly 650,000 people die each year in US from Heart disease.
I mention that because it's a number that's 10 x current COVID-19 number.
Now I am not downplaying COVID-19 in any way. In fact, the two are related. In Oregon, 60% of death from COVID-19 had heart disease.And 100% (ALL) COVID-19 deaths had underlying conditions.
Underlying Conditions: We've hear a lot about underlying conditions the past several weeks and how if you have them, it increases your risk of the severity of COVID-19.
Types of Underlying Conditions:
Heart disease
Diabetes
Obesity
Asthma
Lung disease
Kidney disease
Liver disease
Cancer
The major correlation to Monday and a heart attack, see below, is the change of diet and sleep during the weekend.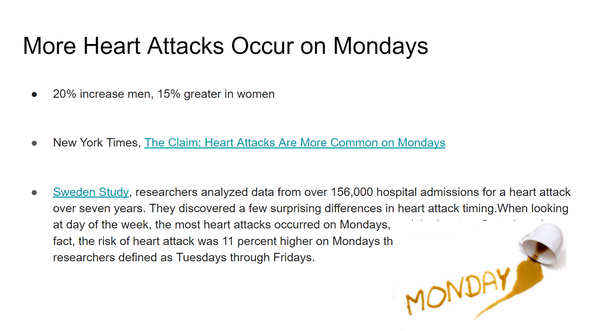 WHAT DOES THIS MEAN?
Yes, COVID-19 is the top of everyone's mind right now but let's not forget what will expose most people to potentially fatal complications in the first place:
Underlying conditions.
It's still about your lifestyle choices:
Diet
Exercise
Sleep
Consistency
Please let me know if you have any questions as this is exceptionally important.
I hope these ideas and resources bring you value and insight during this critical time in history. zakłady online lotto
Please do your part in setting a positive tone during this time. legalne zakłady online
Please stay safe, wash your hands, choose to develop more skills and insight, and care for those you love and yourself.
Remember, you are able to get all your supplements sent directly to your home at my website:
I hope this helps.
​It is my pleasure helping improve your health & fitness!!